Lincoln Northeast Rockets

In Memory
Gordon E. Stodgel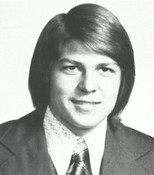 Gordon Stodgel, 49, passed away September 3, 2006. From Cocoa Beach, Florida, formerly of Lincoln.
Son of the late Robert Stodgel and Arlene (Jelinek) Stodgel, was born on his parent's first wedding anniversary, August 5, 1957 and passed away from melanoma on Sunday, September 3, 2006.
He was a 1975 Northeast High graduate, a ten-year employee of Safeway Stores until they left Lincoln, and a five-year employee of Nash Finch. For the past 10 years he was a tourist-fisherman guide in Cocoa Beach, Florida. He was a member of ZCBJ Lodge #120 Swanton.
Private inurnment at Wilber Czech Cemetery, Wilber, Nebraska.
Family Information: Survivors include his mother, Arlene, his sister and husband Diane and Rodney Petersen, nephew Brandon and wife Ashley, all of Lincoln; niece Melissa and her husband St. Joshua O'Hare, Sierra Vista, Arizona, aunts, uncles, and cousins. Preceding him in death are his grandparents and his father, Robert.
Aspen Cremation & Burial Service,
4822 Cleveland Avenue, Lincoln, NE 68504
If you have additional obituary information for Gordon, please forward it to the website. Thank you!