Lincoln Northeast Rockets

In Memory
Julie Roush (Weideman)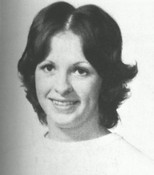 Julie A. Roush- Weideman , 48, Lincoln, died Friday (2/25/05). Lincoln Public Schools for 27 years as a paraprofessional. Memberships: Baptized, Friend; confirmed, St. Marks,Lincoln; 1996 Sertoma Para Professional Educator Award; 2004 Gold Star Award. Special interests: camping, fishing, auctions, gardening and family.
Survivors: husband, Mark; parents, Jim and Thais Roush, Lincoln; mother-in-law, father-in-law, Mae and Wilber Weideman , Lincoln; sister, brother-in-law, Gwen and Chuck Fulton, Pleasant Hill, Mo., Clarice and Dave Martin, Lincoln; sister-in-law, spouse, Ann and Mark Lehman, Lincoln; brother-in-law, spouse, Jeff and Jane Weideman , Crete; many nieces, nephews; one great-nephew; dog, Corkie the Yorkie. Preceded in death by brother Darrol Roush.
Services: 10 a.m. Wednesday, Butherus,Maser & Love Funeral Home, 4040 A Street. Internment: at a later date, Cordova, Zastrow Cemetery. Cremation, no viewing. Memorials, in lieu of flowers, to family to be designated at a later date.
If you have additional obituary information for Julie, please forward it to the website. Thank you!