Lincoln Northeast Rockets

In Memory
Ronnell Kitchen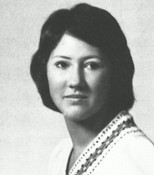 Ronnell Denise Kitchen , 51, Omaha, passed away Wednesday (11/26/08) in Omaha. Born December 2, 1956, to Ronald and Rose (Hanneman) Kitchen at Lincoln. Ronnell was very athletic. She participated in gymnastics in elementary school and at Northeast High School. She graduated from Northeast High School in 1975. Ronnell started as a dental assistant and made it her life's employment. Ronnell enjoyed spending time at the family's cabin near Ashland, sunbathing and waterskiing. She lived seven years in San Diego but returned to Omaha in 1992. She was close with her family, but most of all she was daddy's little girl. Ronnell loved dogs - having owned four daschunds and an English Terrier, her buddy.

Survivors include: father, Ron Kitchen ; brother and fiance, Regan Kitchen and Angie Cutsor, niece, Jennifer Kitchen ; great-niece, Kaydence Haase; nephew, Ryan Kitchen ; cousins, Beth Hassenyager; and Shannon Hassenyager. Preceded in death by her mother, Rose Kitchen .

Graveside Services: 10:30 a.m. Thursday (12/04/08), Lincoln Memorial Park, 6700 S. 14th St., Lincoln. Meet at Gate #2. Cremation. No viewing or visitation. Memorials in care of the family. Condolences at lincolnfh.com. Lincoln Memorial Funeral Home is in charge of arrangements.
If you have additional obituary information for Ronnell, please forward it to the website. Thank you!