Lincoln Northeast Rockets

In Memory
Ken Higgins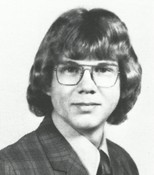 Kenton (Ken) Vaughn Higgins , 52, Lincoln, died Saturday (8/15/09). He was a life long resident of Lincoln. Ken was a volunteer for the Special Olympics and enjoyed gardening and outdoors activities. He worked for Quebecor World Printing for 32 years.
Survived by sons, Brian and Corey Higgins , Lincoln; daughter Chelsea Higgins , Lincoln; former wife, Christina Higgins , Omaha; mother, Joyce Higgins , Lincoln; brother and sister-in-law, Kelly and Pam Higgins , Bryant Ark.; sister, Stacye Higgins , Lincoln; grandchild, Trey Lindgren; and two nephews and one niece. Preceded in death by father, Lyle V. Higgins .
Memorial Service 1 p.m. Thursday (8/20/09) at Wadlow Rozanek Funeral Home 5200 "R" Street, Lincoln. Gathering of family and friends in remembrance of Kenton will be 6 p.m. to 7:30 p.m. Wednesday (8/19/09) at the funeral home. In lieu of flowers memorials to the family. Wadlow Rozanek Funeral Home is in charge of arrangements.

If you have additional obituary information for Ken, please forward it to the website. Thank you!