Lincoln Northeast Rockets

In Memory
William T. Batt VIEW PROFILE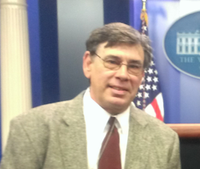 William Theodore Batt was born April 19, 1957, which was Good Friday, in Lincoln, Nebraska to James Edwin and Elizabeth Alyce (Kampman) Batt and passed away on March 28, 2015 in York, Nebraska at the age of 57 years, 11 months, 9 days. He was baptized on May 26, 1957 at St. Paul Evangelical United Brethran Church in Elmwood, Nebraska. Bill was confirmed on April 23, 1972 at St. Mark's Episcopal Church on the UNL campus in Lincoln.
Bill was a 1975 graduate of Lincoln Northeast High School. He graduated from the University of Nebraska-Lincoln in 1983 with a degree in Art History and then attended Central Community College to become a Dental Technician.
On April 10, 1987, Bill was united in marriage to Lori Lola Tonniges at Faith Lutheran Church in York; their marriage was blessed with two sons, James and Mark. Bill was later confirmed in the Lutheran Faith at St. Paul's Lutheran Church in Utica on April 27, 2003. Bill was the owner of Batt Dental Lab in Utica. He was a member of St. John's Luthran Church, rural Waco.
Bill is preceded in death by his parents, James and Elizabeth Batt; his brother, Robert Batt; mother-in-law, Lola Tonniges and brother-in-law, Rod Tonniges.
Cherishing Bill's memory are his wife, Lori Batt, Utica; sons and daughter-in-law, James and Tami Batt, McCool Junction, Mark Batt and special friend, Kayla Thege, Lincoln; grandsons, Grant and Johnie, McCool Junction; father-in-law, Ronald Tonniges, York; brother-in-law and sister-in-law, Todd and Holly Tonniges, Thayer; sister-in-law, Susan Tonniges, York; grandmother, Florence Fehlhafer; aunts, uncles, nieces, nephews, cousins and friends. To this obituary we add our thoughts, prayers, and memories of life shared with Bill.
Funeral Service and Interment Thursday, April 2, 2015 at St. John's Lutheran Church and Cemetary, in rural Waco, Nebraska. Memorial donations may be made to: The Batt Family for future designation.
Taken from website: Zabka Funeral Home, Seward, Nebraska.
If you have additional obituary information, please forward it to the website. Thank you!

1975
Click here to see William T.'s last Profile entry.