Lincoln Northeast Rockets

In Memory
John L. Armstrong
John Lee Armstrong, 57, of Lincoln, passed away, Friday, July 18, 2014 in Holly Springs, N.C.
John was born Oct. 18, 1956 in Lincoln to the late Boyd Lee Armstrong and Orpha Violet Friesen Armstrong. He was a graduate of Lincoln Northeast High School and Southeast Community College and was employed as a computer programmer analyst for Dell Computer Systems. John was a member of Lincoln Berean Church in Lincoln.
He is survived by his wife, Melanie (Wrenn) Armstrong; son, Nathan Armstrong; daughters, Erin and Sarah Armstrong; and sister, Debra Trotman and her husband, Mark.
A memorial service will be held at 11 am on Aug. 6th at Lincoln Berean Church in Lincoln. Memorials may be sent to Lincoln Berean Church or Tabitha Hospice of Lincoln.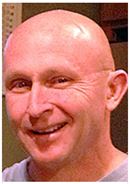 Lincoln Jornal Star, July 27, 2014
If you have additional obituary information, please forward it to the website. Thank you!